Environmentally friendly oil purification
Increased life of hydraulic oil reduces the need for collection, handling and recycling of waste oil. Siem Offshore has good experience with the oil purifier Hydrovac™ from Haakon Ellingsen AS.

Written on 11.01.2021, 00:00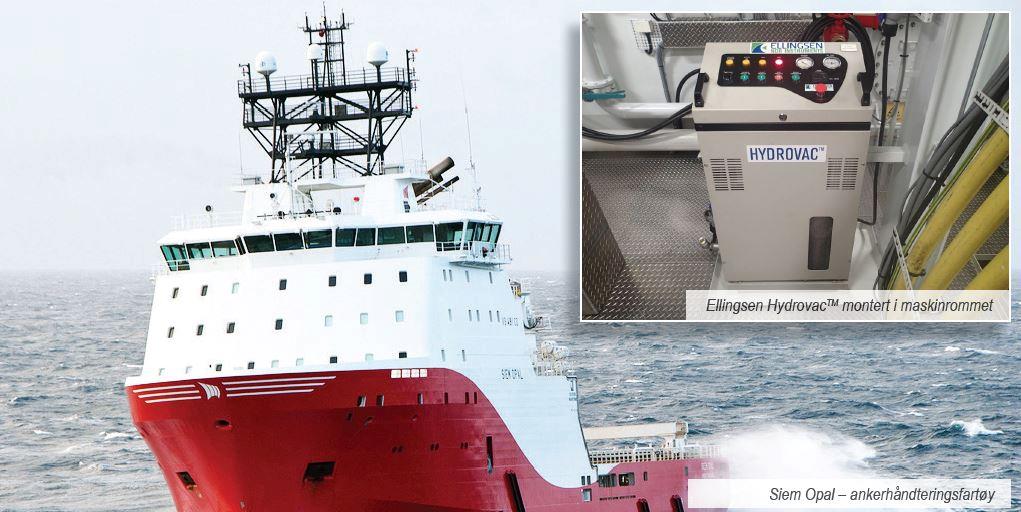 In a time when everything we do is measured against a carbon footprint or a carbon account, we at Haakon Ellingsen AS are proud to be able to deliver equipment that contributes to reducing unwanted emissions.
Our self-produced oil purifier Hydrovac™ ensures that the hydraulic oil used in industry and for the maritime market maintains its quality for a long time. When using Hydrovac™, there will be no need to change oil in the systems because the water is removed efficiently by our patented vacuum technology. This prevents unnecessary operational problems, increased costs and, in the worst case, mechanical breakdown.
Increased life of the hydraulic oil reduces the need for collection, handling and recycling of waste oil. These processes are energy-intensive and contribute to increased unwanted emissions.
Siem Offshore operates a large fleet of supply and anchor handling vessels in an international market. Many of these vessels have Ellingsen Hydrovac™ installed for cleaning the oil used in the thruster systems. The user experiences and feedback from Siem Offshore are positive. Jon August Houge, Operation Manager at Siem, has the following feedback:
- We have had Hydrovac™ oil purifiers in operation on our ships for up to 10 years, mainly on the side thrusters, and these contribute to have high technical uptime and better performance. This of course also applies to the oil purifier itself, we have only positive experiences, and receive good support and follow-up from Haakon Ellingsen AS.
Over the last 20 years, approx. 600 oil purifiers have been supplied to the Norwegian and international industry. The majority are for the maritime sector, where propeller and thruster control represent the largest area of use. Haakon Ellingsen AS has also delivered systems for winches, cranes, pure HPU applications and ATEX approved machines for the oil and gas industry.
As part of the green shift, our goal is to contribute even more to environmentally friendly oil purification and reduced emissions to other markets and areas of use.